Prevent phishing attacks at your school
Here's how it works:
Start your test for up to 100 users
Customize the phishing test template based on your environment
Choose the landing page your users see after they click
Show users which red flags they missed, or a 404 page 
Get a PDF emailed to you in 24 hours with your Phish-prone % and charts to share with management
See how your organization compares to others in your industry
What percentage of your employees are Phish-prone? Find out for free:
Employees are the last line of defense
Employees are a weak link in an school's network security. They are frequently exposed to sophisticated phishing and ransomware attacks. In fact, 91% of successful data breaches started with a spear phishing attack. Employees need to be trained and remain on their toes with security top of mind.
Cybersecurity experts know that simulated phishing tests are an integral part of your ransomware prevention strategy. Phishing your users is as critical as having antivirus and a firewall.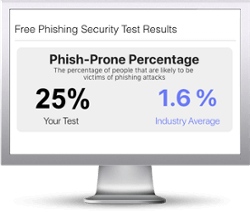 "Excellent training tool to improve the security of our school"
-
 

Administrator in Education Management
   Mid-Market (51-1000 emp.)
What problems are you solving with the product? 
Main security issue for us is users clicking on dodgy emails, this program has opened up their eyes to some of the problems with clicking on attachments and links in a safe environment.
What benefits have you realized?
Helping our end users become better aware of how to avoid phishing attacks through testing and training. Security is everyone's job.
"Phishing Testing and Security Training"
- IT Director, Higher Education

  Mid-Market 
(51-1000 emp.)

Baseline Testing
Baseline testing to assess the Phish-prone percentage of your users through a free simulated phishing attack.

Train Your Users
The world's largest library of security awareness training content; including interactive modules, videos, games, posters and newsletters. Automated training campaigns with scheduled reminder emails.

Phish Your Users
Best-in-class, fully automated simulated phishing attacks, thousands of templates with unlimited usage, and community phishing templates.

See The Results
Enterprise-strength reporting, showing stats and graphs for both training and phishing, ready for management. Show the great ROI!
Get your free phishing security test
Help your employees become the first line of defense against cyberattacks.